Keeping it in the Family: Home Staging Portland Oregon
As a home stager in Portland Oregon, I love to help clients sell their home quickly. Recently I had the honor of staging a beautifully remodeled home for a dynamic young couple who are repeat clients; the husband is a talented contractor and his wife is a savvy Realtor — together, they're a formidable team! This home had a pending sale justone week after listing! Here are some Before & After photos of just a few of the rooms that we staged in this gorgeous home.
Before, this open space might confuse buyers
Staging a dining area & a conversation area suggested to buyers how they could use this space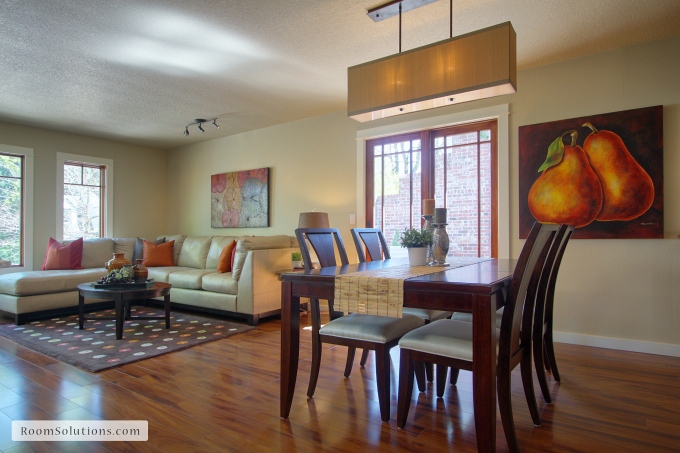 Before, the master bedroom looked a bit small
Staging this room shows buyers that it's much bigger, with ample room for a queen bed, two nightstands, a dresser, and comfortable chair
So, it was great fun to work with this dynamic young couple again for a quick sale … and the same week, I also provided a Home Staging Consultation to the seller's sister & brother-in-law … and their home had a pending sale in just 3 Days!! Nothing makes us happier than helping families sell quickly so that they can move on to their next home.

*** Staging and Photos by Room Solutions Staging ***
The best formula for selling your home quickly is to select a great listing agent and listen to their advice about the right price; then make sure that your home appeals to your target buyer by consulting with a professional home stager. We offer cost-effective home staging tips that result in the best return on your investment. Our homeowner and Realtor clients love our service! If you're located in the Portland Oregon area, call Room Solutions Staging at 503-246-1800 — awarded 2012 Professional Stager of the Year for the Western U.S. Read what local Realtors had to say recently about home staging in the Sunday Oregonian.