It's Not Graffiti ~ but Buyers May not Like that on the Bathroom Walls
When selling your home, it's important to remove your own personal "marks" on it … things that you and your family members may love, but that may be seen as distracting by the majority of potential buyers.

In a Portland home that we staged recently, the homeowner walked me through the house and when we came to the hall bath with an extensive mural, she said "Please don't suggest that we repaint this bathroom … although when we bought the house we hated it, we never got around to repainting it, and we've come to like it."
I smiled and reminded her that it took some time for them to "warm up" to it — likely because their children thought it was a fun and colorful mural.
Presentation is one of most important factors factors that come into play when selling a house. They include:
Location
Price
Condition (includes Staging/Presentation)
With a great Realtor guiding you, remember that it's best to appeal to your target buyer, and even if that's a family, you're not sure what age their kids may be. Don't give buyers an excuse to overlook your home because there's "work to do" — be proactive and fix, repair, or update those things that are easily changed to make your home more appealing.
Here's some Before & After photos of the bathroom "art" walls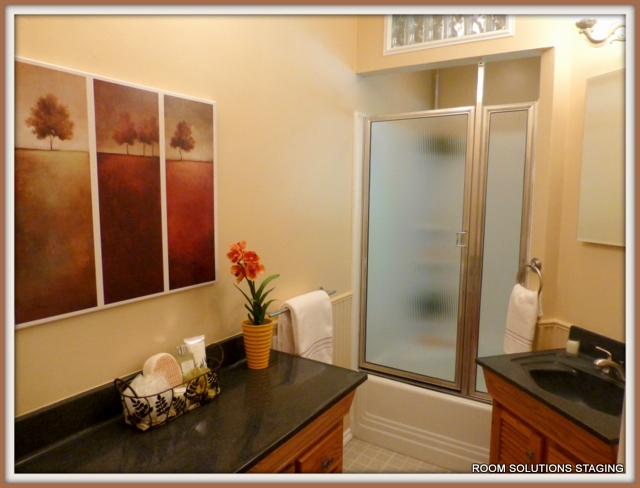 Even the back of the door and the linen cupboard doors got the treatment!
*** What was the outcome? There were multiple full-price offers on the house within hours of listing and the seller sent me this wonderful note:
"I just wanted to thank you again for such a beautiful job staging our house; we had several full-price offers within hours and I am 100% positive that it was largely due to your gorgeous staging. Thanks again for your marvelous work!"