Thank you again for such a breathtaking staging job. I can't believe how great the house looks, even when you had to work with furniture that we provided. I don't know a lot about the staging world, but you must be one of the best home stagers on the West Coast. I'm so lucky you live close by!
This is the second time I've hired Maureen to help me. The first time she came to help us our house sold in three days! This time she came to give us a consultation for making our house look the best it possibly can. I wasn't really expecting her to do a paint color consultation too, but was so happy she came prepared to provide one. She was so professional, and has so many good practical solutions to help make my house look its best. I'd happily hire Maureen again in a heartbeat!
Just wanted to say we really enjoyed meeting you and found the staging consultation exceedingly helpful. Thank you for all of your tips and helping us stage our home. You did an amazing job. Greatly appreciated!
Maureen came to my home for a two hour Staging Consultation and completely changed my understanding of preparing a home to sell and steered me in the right direction...I hope many folks take advantage of her knowledge. I realized that it's not just about good taste and lovely decor, it's also about understanding balance and placement of items in the rooms, flow through the rooms and being up on current trends in home decor. She was so knowledgeable in all these areas and so helpful to me. I am CERTAIN that her advice has increased the sale value of my home significantly, and our Realtor agrees. It looks beautiful! Thank you Maureen! Couldn't have done nearly so well without your help!
We very much appreciated and used your staging advice. The ideas you had for the kitchen were phenomenal. By the way our home sold in two days. Thank you so much!
I just wanted to reach out and say THANK YOU for your consultation insights in staging our home. We just listed it today and already have two offers!
Maureen came to my home to help with furniture arranging and staging (ReStyling). She had great ideas; rearranging & changing just a few things made a tremendous difference. Maureen has a great eye and was wonderful to work with. Things look so much better now; I'd highly recommend Room Solutions to anyone who is looking to freshen up their decor or staging a home for sale.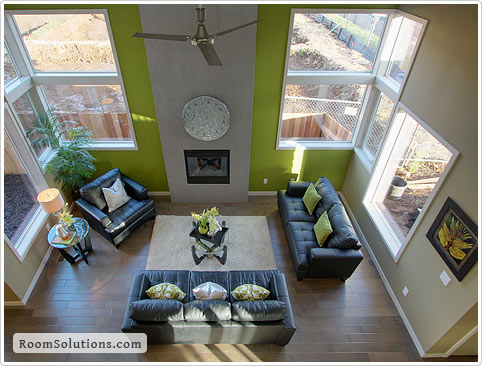 Maureen Bray of Room Solutions consulted on furniture selection and placement for the living room, dining room and master bedroom. She also offered suggestions on paint colors for the master bedroom. Maureen was most delightful and made you feel comfortable right away. She offered various layouts for each room and suggested accessories that would complement these rooms. She listens well and utilizes the furnishings that are dear to you. I will definitely use her again.
Thank you again for all your help! Because of your advice and guidance, we attracted the perfect buyer who immediately fell in love with our condo; we got a full price offer too! If we can ever be a reference for future clients, please don't hesitate to ask - we're huge fans!
We could not be more satisfied with the way you staged our house and neither could the buyer of our home. Here's a quote from the note that she sent us: "I've been searching for a home that gave me the same comfortable, safe and homey feel and I found that in your home the moment I walked in." -- "The moment she walked in" -- Thank you for such outstanding staging work!
I contacted Maureen at Room Solutions Staging to help me re-arrange some rooms in my home. I was bored and I had run out of ideas and at a loss of what/how to update some rooms. Maureen had fabulous ideas and used the furniture and art pieces that I already had. I am thrilled with the outcome!! If you are looking to give your home a new look, you should give Maureen a call!
Maureen with Room Solutions Staging did a wonderful job staging our condo, highlighting its best features to create a warm and inviting look in each room. Maureen was also very helpful in giving us advice to get the condo ready to go on the market. She recommended quality workers for the touch-up jobs that needed to be done and was an excellent communicator throughout the staging process. We are sure Room Solution's work was a big reason our condo sold in just three weeks and we plan to use them again to help us get settled in our new home.
Maureen of Room Solutions Staging was top-notch. We spent 3 hours going through the house, focusing on every detail and idea. I took 12 pages of notes, then did the work on my own – it did not take long to remove, re-arrange and pick up a few choice items. My house sold the first day on the market!
I had an excellent experience with Room Solutions Staging. I would highly recommend their services if you are looking for a fresh, new perspective on a home you are decorating, remodeling or updating. Maureen gave me many extra ideas and suggestions during her consultation service.
I will be selling my home soon and know how important first impressions are when a buyer views your home. I highly recommend using Room Solutions whether you are selling or staying and looking for a beautiful update. I found Maureen's recommendations very on point. We walked through the home, room by room for two hours. Her service is extremely knowledgeable, thorough and valuable. I've followed the majority of her recommendations and the home is looking far more impressive. Most of her recommendations did not require expenditures of funds, which was a plus. The improvements recommended will prove their worth many times over the price of the service.
I contacted Maureen to help me rearrange my accessories and art to just refresh my house. I'd bought a lot of pieces over the years, but didn't think it flowed well together. We discussed this over the phone and she said she could do the work within her very reasonably-priced two hour consultation service. Maureen put my accessories together and showed where the art should be hung. She also gave me furniture placement tips for the guest room, which opened it up. The house now looks fantastic, and it was all done under budget! Maureen was a delight to work with and I've already recommended her to my friends. I saw on her website that she worked with HGTV (my favorite channel) when they were filming in Portland. If you're looking to give your home a refreshed look, you should definitely call Maureen at Room Solutions Staging.
Maureen of Room Solutions Staging is amazing, gifted, and her services are worth every penny. I really can't rave enough about the services we received from this wonderful lady. We hired her to do a consultation for home staging services to sell our home. She made recommendations to re-arrange the furniture in order to highlight the best features of the house. She worked with the things we had and everyone who saw the house loved it; and it sold in one day for more than what we were asking. You will not be disappointed.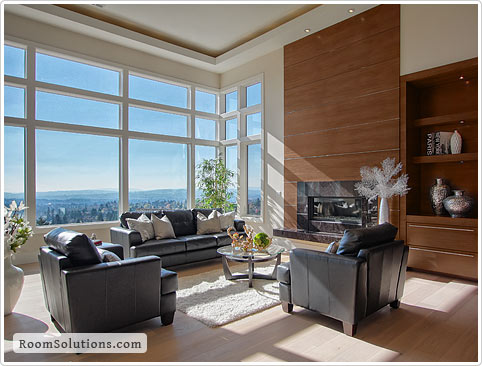 Maureen was fantastic! She provided excellent ideas and certainly has an eye for furniture placement. We received a full price offer just 19 hours after our home went on the market! I know we would not have been able to do this without her help; her ideas and tips really helped to make the sale. Thank you Maureen for your wisdom, guidance, and assistance -- you are the best!
Hiring Maureen of Room Solutions Staging was the best decision we expect to make in preparing our house for resale. We had begun to purchase items and paint to prepare our home for sale, but there were so many decisions to make. Looking back, we were making the decisions FOR OURSELVES, not a potential buyer. We also needed someone to help us target our efforts and spending. Within 5 minutes of arriving, Maureen saved us $1,500 by telling us not to purchase something we were about to buy for the house. For two hours, she toured our home and not only told us what to do/not to do, but why. It was a very revealing experience, not just related to cleaning and de-cluttering. There is a psychology to selling a home, and she taught us a lot of good principles. We have employed many of her recommendations already, and with each one can SEE how it presents our home in a better light than what we had planned. I would highly recommend Room Solutions Staging, either in the form of a 2-hour consult or the full staging service. When we are ready to put our home on the market, we hope to hire Maureen again to help us fine-tune the staging. We will NEVER try to sell another house without consulting first with Maureen.
It was incredibly helpful for us to have Maureen over for a staging consultation. The paint colors are working out perfectly, and she really gave us ideas how to make the house the best it could be. She helped narrow our focus and we have been able to get so much more done with her direction. Maureen is also very delightful, and her visit has been, by far, the most fun part of getting our house ready for the market. I cannot recommend her services more.
You helped me re-design our new home with existing furniture from our previous home - excellent, very professional and easy to work with. You could see and arrange things that I could never have come up with myself. You used the time wisely and I highly recommend you as a very talented and skilled decorator and home stager.
Our home sold in two days with a backup offer as well! Your tips and advice were invaluable to me as we prepared to put a "For Sale" sign in the yard. Our home looks so great it makes it even harder to leave. I am so glad to pass along your name to anyone I can. Thank you so very much for making what we already had "work better" in our home.
We've started painting and everything looks great! Have had many compliments from family and friends…thanks for the great advice.
Maureen did a perfect job of communicating prior to her visit, arrived on time, and stayed until she felt she'd finished her job, additional time beyond what we expected. But her gift, in addition to staging is her more than pleasant manner of suggesting what we should consider. We needed some affirmations of those things that we should keep and those things that we might set aside in order to ready the house for sale. She more than understands paints, surfaces, textures, etc. But, she's very pleasant in the manner in which she suggests or shares her knowledge. My husband wasn't particularly looking forward to her visit with us; today, I believe, he thinks that having her was one of the best things I've suggested in years! Her suggestions, keeping in mind cost, etc., were so helpful and they are suggestions we're beginning to implement today. After her visit, she mentioned that she'd send a bit more information to us -- above and beyond the call of duty. I was so surprised that her very complete, comprehensive e-mail came through later that day. Thanks so much, Maureen. We'll definitely use your services again!
Maureen was personable, knowledgeable and professional; her proposal was thorough, and her pricing was very competitive. In advance of staging, Maureen provided us with a helpful list of "Things to Do" for us to take care of before staging day. These improvements enhanced the look of our home substantially, both inside and out. While other local stagers proposed removing and replacing much of our furniture and putting it in storage, Maureen's approach was to use the furnishings we owned, rearranging them and adding accessories from her inventory to present our home in an appealing manner. This worked well and was very cost effective. Our house was given a substantial makeover and looked terrific. When it went on the market, we received numerous compliments from Realtors and their clients about how good it looked. Most important, in less than a week we accepted an offer. Maureen's home staging work played an important part in our success.
Maureen at Room Solutions Staging provided a Verbal Consult prior to listing our home; we walked through each room and made placement changes, removed extra furniture and wow, what a difference! Her focus on making the home look warm and inviting provided buyers a chance to focus on our home's craftsmanship and not our stuff. All the rooms look spacious, inviting, and light-filled and it sold in 13 days! Maureen was quick to respond to all my emails and questions. We will use Maureen again to help us get settled into our new home! My advice: don't list your Portland-area home without calling Maureen at Room Solutions Staging first!
I think very highly of Maureen: she's professional, generous, and easy to work with. She goes over and beyond, meeting you at sources (of which she has many) and helping you get an overview of what you are trying to do. We were very pleased with her involvement and found her very easy and pleasant to deal with.
We hired Maureen from Room Solutions Staging to help us with decorating our new home. We made a Verbal Consult appointment for her to walk through and give suggestions as well as help us move furniture as needed. We had a room that was a challenge as far as placement of furniture; Maureen listened to our problem and reviewed what we wanted and how we used our room. She came up with a great solution that works beautifully. We were very pleased with the new arrangement. She also gave feedback as far as art selection and placement. In addition, we hired Maureen to shop with us for a couple of hours to help select new furniture for our home. She was a great help!
Maureen is awesome! Since I was using my own furniture, she recommended removing and moving some pieces and adding some inexpensive decor pieces. It looked great! She definitely knows what she is doing and puts you at ease the moment you meet her. All this for a very reasonable fee -- a great investment. I'll most certainly recommend her to my friends and family and would definitely use Maureen in the future for interior decorating ideas too.
Thank you for helping us with the staging and presentation of our home. The suggested change in exterior house color was well worth your visit. We appreciate your explanation as to why the first impression of the home would benefit from choosing a new color. Your suggestions saved us time and provided us with new ideas and input into minor improvements we could make (new throw pillows, rugs, plants etc.). Since we have an eclectic assortment of furniture, I was most pleased that you could work with what we already had, therefore avoiding unnecessary expenditures. We have no hesitation in referring your services -- you certainly exceeded our expectations!
Maureen was a godsend. During our initial conversation, Maureen took the time to listen and assess our situation from my many thoughts and words. We knew we needed help to make our home more sellable. But not until Maureen's first visit with us, did we realize how much. Maureen composed a list (25+ items of suggestions, details and well- thought out plans), worked with me through resources, pictures and e-mails to convey her ideas. Maureen's vision and inspiration changed our home into a delight to the eye, and a place where others could see it as "their" home. Thank you Maureen!
We hired Maureen from Room Solutions Staging to give us decorating advice in our new home. For a reasonable fee Maureen came for 2 hours, offering suggestions about placement, art, and other decorative items. She was personable, thoughtful, and we have already taken many of her suggestions. All during the process, Maureen was exceedingly professional and supportive. I cannot praise her enough -- she went above and beyond the call of duty to help us. And all this is in addition to the fact that she is an amazing stager whose advice and staging I am positive helped sell our previous house in 3 days. Use her! You won't regret it.
Our home looks stunning. Thank you for all of your advice and suggestions; this has been a great experience for us! I recommend this process for anyone who wants to simplify their environment – whether selling their home or not.
Maureen was absolutely fabulous. She gave me so many ideas during the verbal consultation and was incredibly positive as my 1970's house gets a new face. She is an incredible resource, and I highly, highly recommend her. She deserves an 'A+' rating.
We contacted Maureen based on a recommendation – we're so glad we did! She gave us sound advice that "showed the space" in our home's interior. Maureen was also very professional in telling us that changing our main exterior paint color would likely attract more interest. Not only was she right, she helped select a main color that would complement the existing trim and shake colors, saving us hundreds of dollars. Her home staging advice was a big part of why our home sold quickly, even in the Winter months and during a tough time in the Portland real estate market.