The Power of Exterior Paint when Selling Your Home
When your home is on the market, its curb appeal is the first impression that buyers have and its often a deciding factor in whether or not they want to see the inside of the house. Professional home stagers often provide our homeowner clients with neutral paint colors that will be appealing to their target buyers, along with other curb appeal tips.
When I met with the sellers of this home recently, the first thing I noticed when driving up was the bright yellow paint. Although the paint job was less than a year old and in good condition, the color was much too taste-specific for selling. It also didn't blend in well with other homes in the neighborhood.
During our Verbal Consultation service, I advised the sellers that in order for their home to look its best, that the exterior paint color needed to be more neutral ~ and that a new color would also blend in better with other similar homes on their street.
The sellers had already guessed that their bright yellow paint might need to be changed, so they were interested in finding out my opinion, and my color recommendation. Since the house was painted only a year ago, I wanted to limit their expense as much as possible. Their home has some stone trim on the front of the house, along with white paint trim, black shutters, and gray cedar shingles. To save them considerable expense, I suggested that they keep all of the trim colors as they were, thus avoiding having to repaint those areas. For the house body color, I selected a true taupe (between gray and brown) — which worked well with the other three paint colors on the exterior. I also advised that they paint the front door black, which gave a much more updated look than the previous natural wood stain. The end result is a classic, more sophisticated color palette that today's buyers like. As a result, the online photos are so much more appealing.
This color is Benjamin Moore's Taos Taupe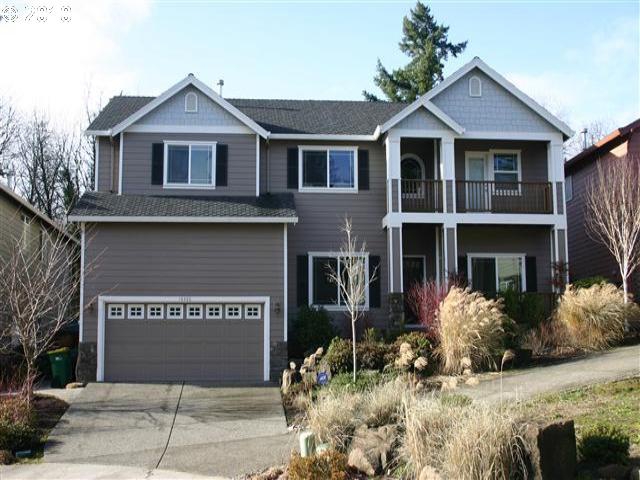 Before you list your home, contact your local professional home stager for a very reasonably-priced Consultation. We can help with paint colors, furniture placement, easy cosmetic updates, and lots of excellent advice on how to make your home "move in ready" for potential buyers.
*** *** ***
Maureen Bray is a professional home stager based in Portland, Oregon. Her staging company, Room Solutions Staging, has experienced phenomenal growth because of the excellent results they deliver to their clients (homeowners, Realtors, investors, trustees, banks, and builders). Average Days on Market for their staged properties is 28 — in a market where the current average DOM is 135. Room Solutions offers a menu of home staging services including Staging for both Vacant & Occupied homes, home staging Consultations, Color Consultations, Redesign Services, and New Home Move-in Services. For a complimentary no-obligation estimate, call 503-246-1800.