Foreclosed Home on the market for 2 years, then Staged and SOLD in just one month!
Our Portland-based home staging company was contracted to stage this gorgeous custom-built home in Tualatin Oregon last month. This was another foreclosed property (the fifth one we've staged for this bank) ~ and we were delighted to hear that after lingering on the market as a vacant new home since 2008 without a sale, it's now under contract just one month after staging!
This smart and savvy bank knows that staging works! All of the homes we've staged for them have been on the market for one to three years, and all of them sell quickly after staging. The bank wins because they liquidate their inventory, the neighborhoods win because property values are maintained, and the buyers win because they get a gorgeous home for a great price.
Here are some Before & After photos of this beautiful home … it seems to "come to life" once it's staged and that is what buyers are reacting to. Who can get excited about an empty shell?
In the entry below — staging helps to pique the buyer's interest to want to see more …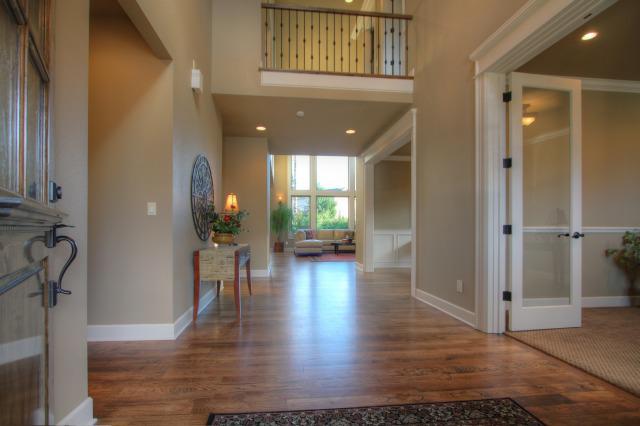 The dining room needed privacy from the house next door and also needed staging to warm it up …
The master bedroom & spa bath had great features, but before staging you didn't know where to look …
The TV room is found at the top of the stairs, but without staging, it felt like a "pass through" to bedrooms …
If your listing or vacant home is lingering on the market, call a professional home stager and be prepared for a SOLD sign!
(Photos by Room Solutions Staging)
*** *** ***
This home was professionally staged by Room Solutions Staging in Portland OR. We work with sellers, real estate agents, banks, builders & investors to prepare homes for the market so that they sell quickly! Our varied menu of home staging services is tailored to fit your budget and your time frame. Read what our clients have to say about our service and our experience, then call us for a free home staging proposal @ 503-246-1800.