Luxury Portland Home on the Market for 2+ years, then Staged … (Part 1)
Our Portland home staging company was recently hired to stage a beautiful luxury new home that's been on the market for 2 years without a sale. The builder created a stunning masterpiece, but the real estate market was crashing just as construction was nearing completion. The setting, location, and quality of this home are the very best … but market forces diminished the buyer pool for a home like this in our area.
What to do? Why, stage it of course … so that potential buyers could imagine living in this home. Staging helps emphasize the home's best features and architectural details, creates focal points, and provides a warm inviting "feeling" that buyers find they can connect to emotionally. A person's largest investment is also a highly emotional one, since we humans buy a house not just for shelter but to provide a "home" where families grow and are nurtured, where dreams and memories are shared and encouraged.
Here are some Before and After photos of this gorgeous Portland home … the staging helps buyers see themselves living here.
Dining rooms in particular evoke dreams of family and friends sharing a meal … enjoying themselves. With an empty room (no matter how nice the details) it's hard to get that "feeling" without a lot of creative thinking!
The great room has an entire wall of windows looking out to Tryon Creek Park. Staging this room gives buyers a reference point for their own furnishings & draws attention to the two-story custom stone fireplace.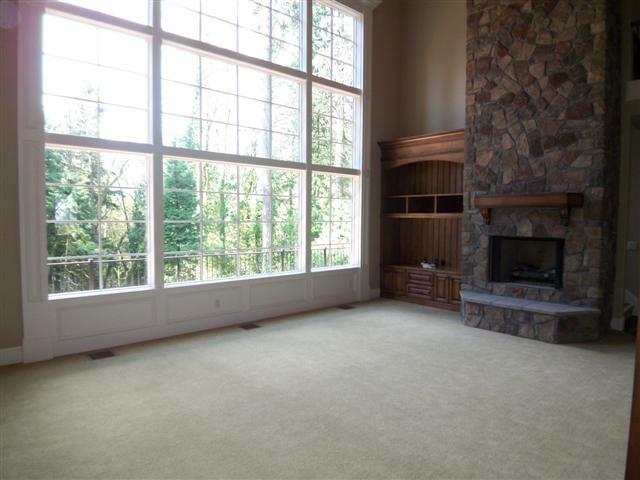 Another view of the great room shows the great flow through this home
In the large well-appointed kitchen, staging helps buyers imagine how they'd use this space. It's all about providing nurturing care for your family & friends … the builder thought of everything; staging just enhanced it.
Another view of the kitchen eating space reveals a built-in desk
The kitchen workspace in this home is amazing! Every imaginable built-in including two dishwashers concealed in custom cabinets, warming drawers, multiple sinks, and a gorgeous center island makes this kitchen special.
Here's some photos of this home's exterior spaces …
So will staging help this home sell? Stay tuned … fingers are crossed!
*** *** ***
Room Solutions Staging offers help to homeowners, real estate professionals, builders, banks and investors in preparing homes for the market. Our home staging clients love our service and our staging statistics! Our home staging services in the Portland OR metro area include consultation reports, staging for both vacant and occupied homes, and interior redesign projects. For a complimentary home staging proposal, contact us @ 503-246-1800.
Interior Photos by Room Solutions ~ Staging that Sells Portland Homes.