Motivated Sellers use their Furniture + Our Staging Accessories = Great Before & Afters
As professional home stagers, most of us have a statement like this one that we share with our clients: "How we live in a home is very different than how we prepare it for selling …" Recently another clever stager had this version, which I love: "How you Dwell is not how you Sell .."
The point is, none of us really "lives" in a showcase — but when your home is on the market, you want your home to be as appealing as possible so that your target buyer who sees it either online or in person says, "I could live here!"

We recently worked with sellers in Lake Oswego OR who were moving out of ther home, but were willing to leave some furniture behind in order to help it sell. We advised them on updating paint colors, light fixtures, cabinet hardware, and a few small cosmetic repairs. They completed everything on their "To Do" list and we then returned to add our accessories to their remaining furniture where needed. The result was a home where buyers could move right in to … no work needed!
Here are a few Before & After photos that will appeal to the target buyers of this home showcasing the space & function of each room.
In the great room, we suggested a soft brown paint color to replace the stark white; an updated light fixture in the dining area; removing the dated valance; & removing the hutch since it overwhelmed the space:
In the family room, we suggested the same soft brown paint, adding a wood mantle to the fireplace, and packing up the toys; then we used furniture from other rooms in the house and accessorized: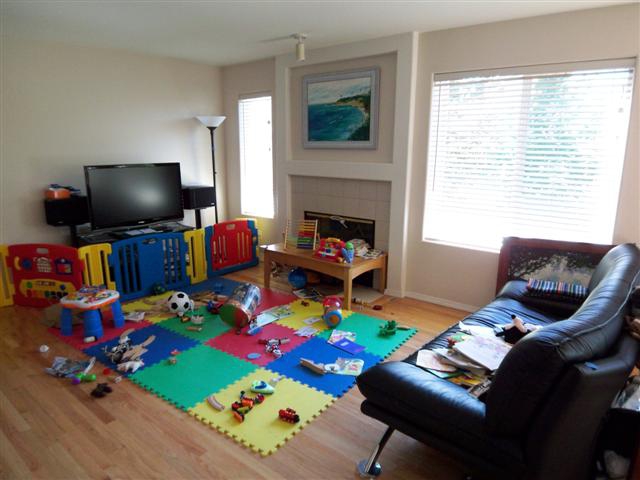 In the kitchen, we suggested replacing the worn white appliances & sink, painting, adding satin nickel cabinet hardware, removing the valance, and updating the counters to stay competitive with other homes nearby:
In the office, painting & removing the valance & excess clutter made this room "move in ready" for potential buyers, using what the homeowner already had:
If you're planning to sell your home in today's super-competitive market, a consultation with your local professional home stager will help you by making sure you only do what's necessary to make your home appealing to your target buyer. Remember, HOW YOU DWELL IS NOT HOW YOU SELL 🙂
*** *** ***
Room Solutions Staging offers help to Portland Oregon metro area homeowners, Realtors, builders, banks and investors in preparing homes for the market. Our home staging clients love our service and our staging statistics! Our home staging services in the Portland OR metro area include consultation reports, staging for both vacant and occupied homes, and interior redesign projects. For a complimentary home staging proposal, please contact us @ 503-246-1800.