Staged on Monday ~ SOLD on Friday! Home Staging Success in Portland OR
As a home staging company based in Portland Oregon, we love helping our clients sell their homes faster! This week we staged a home in Happy Valley Oregon that had been on the market for two months; the listing agent told us that buyers weren't excited about the property, even though they'd had a good number of showings. She said that buyers often commented that they didn't like the backyard. As professional home stagers, we knew that by making the house itself look amazing, buyers wouldn't be as worried about the un-landscaped backyard.
Room Solutions Staging staged this home on Monday and provided new photos for the online listing; and by Friday the house was under contract! The listing agent told me that after our staging, potential buyers no longer even mentioned that backyard!
Here are some Before & After photos that illustrate how simple staging can help buyers see themselves living in the home … it's no longer an empty, colorless shell when it's transformed by Portland home staging experts.
First impressions Count! Living room Before
After staging, buyers can now imagine enjoying this room!
The Dining room is empty & lifeless Before
Simple staging makes it feels like a great place to entertain family & friends!
The Family Room Before cut off traffic flow
Staging opened up the space and welcomes buyers in!
The Kitchen/family room Before
Once staged, buyers could see this is a great entertaining space!
The Master Bedroom Before was empty & cold
But Staging brought the bedroom to life and showed its purpose to buyers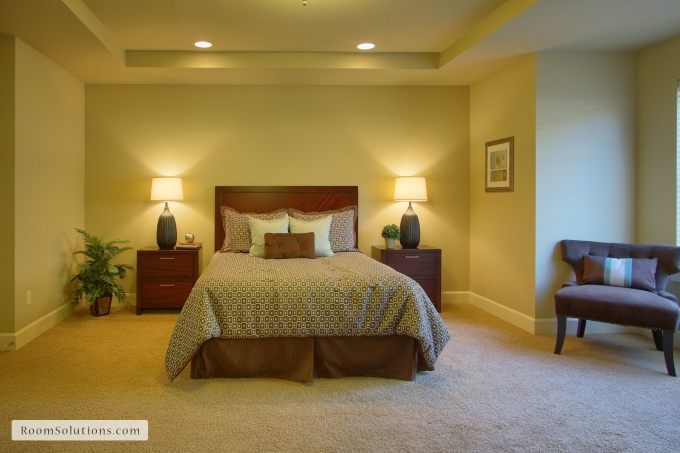 Home sellers and their listing agents who add home staging to their marketing tools are discovering that it's often the "secret ingredient" that helps homes sell faster. Be sure to make YOUR property stand out in the sea of homes for sale in your area — call your local home staging experts!
~ Staging and Photos by Room Solutions Staging ~
*** *** ***
Room Solutions Staging offers home staging services to Portland Oregon homeowners, real estate agents, builders, banks, and investors to prepare homes for the market. Our home staging clients love our customer service and our home staging statistics! Our home staging services in the Portland OR metro area include consultations, staging for both vacant and lived-in homes, and interior restyling service. For a free home staging proposal, please contact us @ 503-246-1800.