Thank you again for such a breathtaking job. I can't believe how great the house looks, even when you had to work with furniture that we provided. I don't know a lot about the staging world, but you must be one of the best home stagers on the west coast. I'm so lucky you live close by!
We were very pleased with Maureen's home staging work from start to finish. Her proposal was easy to understand, the contract was well laid out and the staging was performed exceptionally well. Maureen helped us pick a great interior paint color too. As a result of hiring Maureen, we were able to sell a vacant house within two days of it being staged and listed. If we hadn't staged the house with Maureen's help, who knows how long it would have stayed on the market. Thank you Maureen!!
This is the second time I've hired Maureen to help me. The first time she came to help us stage our home for selling; our house sold in three days! This time she came to give us a consultation for making our house look the best it possibly can. I wasn't really expecting her to do a paint color consultation too, but was so happy she came prepared to provide one. She was so professional, and has so many good practical solutions to help me make my house look its best. I'd happily hire Maureen again in a heartbeat!
Just wanted to say we really enjoyed meeting you and found the staging consultation exceedingly helpful. Thank you for the tips and thank you for staging our home. You did an amazing job. Greatly appreciated!
We highly recommend Maureen's services! Her whole team are fantastic to work with.
Maureen came to my home for a two hour Staging Consultation and completely changed my understanding of preparing a home to sell and steered me in the right direction...I hope many folks take advantage of her knowledge. I realized that it's not just about good taste and lovely decor, it's also about understanding balance and placement of items in the rooms, flow through the rooms and being up on current trends in home decor. She was so knowledgeable in all these areas and so helpful to me. I am CERTAIN that her advice has increased the sale value of my home significantly, and our Realtor agrees. It looks beautiful! Thank you Maureen!!! Couldn't have done nearly so well without your help!
We want you to know that we think your staging is outstanding. Much more than we expected. Thank you for your effort.
I am going to tell everyone who is moving about the wonderful stager I know. You did a great job for us! Thanks again.
Maureen has a terrific eye for design that made the rooms in our house look fantastic! She was able to bring out the best in the kitchen, dining room, living room, family room, master bedroom and bath and enhanced other areas of our home. Maureen is an experienced professional; she responded quickly and provided us with a written proposal that was very competitive (we had also interviewed another staging company). Maureen and her team completed the staging as scheduled and I could not believe the difference she made. Our home sold very quickly and I highly recommend using a stager when selling your home; Maureen is at the top of my list. I have already referred her to family!
Thank you for doing such a beautiful staging job! I'm sure it made a big difference in how people viewed the house and helped us get a quick sale at over the asking price.
Thanks Maureen – the staging was, as appropriate, the icing on the cake!
I just wanted to reach out and say THANK YOU for your consultation insights in staging our home. We just listed it today and already have two offers!
We very much appreciated and used your staging advice. The ideas you had for the kitchen were phenomenal. By the way our home sold in two days. Thank you so much!
Maureen of Room Solutions Staging is amazing, gifted, and her services are worth every penny. I really can't rave enough about the services we received from this wonderful lady. We hired her to do a consultation for home staging services to sell our home. She made recommendations to re-arrange the furniture in order to highlight the best features of the house. She worked with the things we had and everyone who saw the house loved it; and it sold in one day for more than what we were asking. You will not be disappointed.
Maureen Bray of Room Solutions consulted on furniture selection and placement for the living room, dining room and master bedroom. She also offered suggestions on paint colors for the master bedroom. Maureen was most delightful and made you feel comfortable right away. She offered various layouts for each room and suggested accessories that would complement these rooms. She listens well and utilizes the furnishings that are dear to you. I will definitely use her again.
We hired Maureen of Room Solutions to assist us in moving in to our new home after relocating from Minneapolis, MN. Maureen is a true professional; she is compassionate, kind and timely in her work. She compiled and managed a team to get this job done smoothly and easily, transforming our home over 3 days; we went from complete clutter to serene beauty. It was a miracle! In fact, we held a neighborhood party less than 2 weeks after closing escrow, thanks to her help. The house is now so elegant and calm. We highly recommend her services.
I received an offer on the house 9 days after it was listed on the market. And the offer was for an amount higher than the listing price! The higher amount alone more than paid for your services. Thanks to you and your team for doing such an incredible job. The staging made an enormous difference. In fact, it greatly increased the value of the house and it's attractiveness to buyers.
I contacted Maureen at Room Solutions Staging to help me re-arrange some rooms in my home. I was bored and I had run out of ideas and at a loss of what/how to update some rooms. Maureen had fabulous ideas and used the furniture and art pieces that I already had. I am thrilled with the outcome!! If you are looking to give your home a new look, you should give Maureen a call!
Thank you again for creating such a gorgeous space for buyers to imagine themselves in. Your work is truly spectacular and you've made that condo look like a million bucks! It was like being on one of those home makeover shows; in every room we both were cheering for the thought and talent that went into staging each space. We're certain that we wouldn't have sold it as quickly, or had as many buyers come through, without your staging. ​Our buyers had a choice between our gorgeous unit and the cheaper one, and they still picked ours! I know the staging helped sway them. As you know, this was a very challenging layout and location, and we are thrilled to have a pending sale in less than 2 weeks. Thanks again for your beautiful work!
You did a GREAT job Maureen! After your staging we got 3 offers :) I will be referring ​my friends to you. THANK YOU​!
I just want to say a big Thank You for staging my home... No doubt it had a lot to do with the quick sale! Thanks again Maureen! As they say, we couldn't have done it without you.
We could not be more satisfied with the way you staged our house and neither could the buyer of our home. Here's a quote from the note that she sent us: "I've been searching for a home that gave me the same comfortable, safe and homey feel and I found that in your home the moment I walked in." -- "The moment she walked in" -- Thank you for such outstanding work!
Thank you for the beautiful staging you provided, it was what we needed to show off the condo in the best way possible.
Our house sold after only six days on the market for very near asking price. Thanks for all your help! Well worth it.
Maureen with Room Solutions Staging did a wonderful job staging our condo, highlighting its best features to create a warm and inviting look in each room. Maureen was also very helpful in giving us advice to get the condo ready to go on the market. She recommended quality workers for the touch-up jobs that needed to be done and was an excellent communicator throughout the staging process. We are sure Room Solution's work was a big reason our condo sold in just three weeks and we plan to use them again to help us get settled in our new home.
Maureen of Room Solutions Staging was top-notch. We spent 3 hours going through the house, focusing on every detail and idea. I took 12 pages of notes, then did the work on my own – it did not take long to remove, re-arrange and pick up a few choice items. My house sold the first day on the market!
Mike and I are extremely pleased the sale of our home happened so quickly, and we are convinced that your staging was an integral part of that. The house looked wonderful! The first impression when walking through the entry is amazing! We especially love how the formal living and dining rooms turned out.
I will be selling my home soon and know how important first impressions are when a buyer views your home. I highly recommend using Room Solutions whether you are selling or staying and looking for a beautiful update. I found Maureen's recommendations very on point. We walked through the home, room by room for two hours. Her service is extremely knowledgeable, thorough and valuable. I've followed the majority of her recommendations and the home is looking far more impressive. Most of her recommendations did not require expenditures of funds, which was a plus. The improvements recommended will prove their worth many times over the price of the service.
Thank you so much for the beautiful home staging. Everyone that saw the house loved it. It made all the difference on the fast sale.
Only 2 days after you staged this home we had an accepted offer … it was the first offer after being shown for 3 months as a vacant home.
My broker said the house is shown often and several agents have asked about the staging, saying it's the nicest they have seen!
I contacted Maureen to help me rearrange my accessories and art to just refresh my house. I'd bought a lot of pieces over the years, but didn't think it flowed well together. We discussed this over the phone and she said she could do the work within her very reasonably-priced two hour consultation service. Maureen put my accessories together and showed where the art should be hung. She also gave me furniture placement tips for the guest room, which opened it up. The house now looks fantastic, and it was all done under budget! Maureen was a delight to work with and I've already recommended her to my friends. I saw on her website that she worked with HGTV (my favorite channel) when they were filming in Portland. If you're looking to give your home a refreshed look, you should definitely call Maureen at Room Solutions Staging.
Maureen was a joy to work with. She brought in attractive furnishings for the living room, dining room, kitchen, one bedroom, and bathroom. She transformed the house from an empty shell into a warm and inviting gem. Maureen also advised about things I could do to make the house more attractive for the Open House. Her services certainly did help me get the sale I needed.
We really valued the advice you gave us and are pleased with the results.
Thank you Maureen. I really appreciate the great job you did with our house and truly think that it would not have sold as quickly as it did without your staging artistry.
Maureen was fantastic! She provided excellent ideas and certainly has an eye for furniture placement. We received a full price offer just 19 hours after our home went on the market! I know we would not have been able to do this without her help; her ideas and tips really helped to make the sale. Thank you Maureen for your wisdom, guidance, and assistance -- you are the best!
WOW! Is that our house? Thank you so much for the amazing home staging! It was great working with you and if you need a reference just send them our way!!
Thank you for your help. The staging really made the difference, and you impressed our agent enough that she will recommend you in the future!
Hiring Maureen of Room Solutions Staging was the best decision we expect to make in preparing our house for resale. We had begun to purchase items and paint to prepare our home for sale, but there were so many decisions to make. Looking back, we were making the decisions FOR OURSELVES, not a potential buyer. We also needed someone to help us target our efforts and spending. Within 5 minutes of arriving, Maureen saved us $1,500 by telling us not to purchase something we were about to buy for the house. For two hours, she toured our home and not only told us what to do/not to do, but why. It was a very revealing experience, not just related to cleaning and de-cluttering. There is a psychology to selling a home, and she taught us a lot of good principles. We have employed many of her recommendations already, and with each one can SEE how it presents our home in a better light than what we had planned. I would highly recommend Room Solutions Staging, either in the form of a 2-hour consult or the full staging service. When we are ready to put our home on the market, we hope to hire Maureen again to help us fine-tune the staging. We will NEVER try to sell another house without consulting first with Maureen.
Thanks for everything; obviously the staging was genius. Our home sold in two days!
Thank you -- you did a wonderful job; the staging looks great! You certainly helped me sell the house.
Maureen, thank you again for the great design and implementation. Your home staging really paid off.
We took a look at the staging photos for the MLS and it looks fantastic!! I love what you did with the Family room and how you were able to incorporate the color of the kitchen cabinetry with the pops of color in the family room. Stellar! The master bathroom looks great too. Thanks for all of your hard work -- we had a fast sale!!
It was incredibly helpful for us to have Maureen over for a staging consultation. The paint colors are working out perfectly, and she really gave us ideas how to make the house the best it could be. She helped narrow our focus and we have been able to get so much more done with her direction. Maureen is also very delightful, and her visit has been, by far, the most fun part of getting our house ready for the market. I cannot recommend her services more.
We had a 3,200 square foot home that we were preparing to sell, and we'd done a complete remodel to get this home sold quickly. Maureen and her team placed furniture and decor that suited our home well; the subsequent photographs and online listing looked beautiful. With the home staged, potential buyers were able to see the home and the spaces as they would use them. Our home was well prepared and well priced and the staging brought the buyers in and let them see the potential that it had. We had a full price offer in 4 days! Room Solutions was meticulous to the tee. They were in and out within all timeframes given. They even accommodated a short notice removal to facilitate an early closing. We were very pleased with Maureen's work and the way she pulled it off.
Our home sold in two days with a backup offer as well! Your tips and advice were invaluable to me as we prepared to put a "For Sale" sign in the yard. Our home looks so great it makes it even harder to leave. I am so glad to pass along your name to anyone I can. Thank you so very much for making what we had "work better" in our home.
Thank you, Maureen. I am very pleased with the staging results and appreciate everything you did to tie it all together.
Maureen's services exceeded my expectations. The furnishings were not only beautiful but made each room look welcoming and much larger. My first thought upon entering the home after staging was, "I wish it looked like this when I'd lived here." We initially reached out to Maureen on Monday … Staging was complete and photos taken by early afternoon on Thursday. Maureen is not only good at what she does, she creates miracles. I would HIGHLY recommend her! Don't waste your time calling around. Maureen is reasonable and amazing at what she does.
How's that for fast work … your staging definitely made this quick sale possible - Thanks!
Thanks for your amazing work. I love how you decorated my new home. Thanks again!
Thank you for making my home look more appealing to potential buyers; it sold in just 10 days!
My vacant home had been listed for sale for two months without receiving any offers. The feedback I received led me to undertake a cosmetic remodel of the kitchen and bathrooms, as well as to get the house staged when I relisted it. Maureen of Room Solutions sent me a staging proposal, and also provided a detailed list of items throughout the house that needed cleaning or repair so that the house would show well. After the remodeling Maureen staged the house. She did a great job selecting tasteful furniture and accessories to suit each room, and her staging made two bedrooms with slanted ceilings look much larger than they did when vacant. Three days after I relisted my house for sale, I received a full-priced offer. I highly recommend Room Solutions to anyone selling their home; the cost is absolutely worth it.
We got lots of positive feedback from our potential buyers. Thanks again for the gorgeous staging of our home.
Our Realtor believes that the home staging was a significant factor in the showings and quick sale of the condo.
Maureen did a perfect job of communicating prior to her visit, arrived on time, and stayed until she felt she'd finished her job, additional time beyond what we expected. But her gift, in addition to staging is her more than pleasant manner of suggesting what we should consider. We needed some affirmations of those things that we should keep and those things that we might set aside in order to ready the house for sale. She more than understands paints, surfaces, textures, etc. But, she's very pleasant in the manner in which she suggests or shares her knowledge. My husband wasn't particularly looking forward to her visit with us; today, I believe, he thinks that having her was one of the best things I've suggested in years! Her suggestions, keeping in mind cost, etc., were so helpful and they are suggestions we're beginning to implement today. After her visit, she mentioned that she'd send a bit more information to us -- above and beyond the call of duty. I was so surprised that her very complete, comprehensive e-mail came through later that day. Thanks so much, Maureen. We'll definitely use your services again!
We appreciated your input about our house during the Verbal Consultation and feel it greatly enhanced the showings.
Thanks so much, I could not have done it without you!
Maureen was personable, knowledgeable and professional; her proposal was thorough, and her pricing was very competitive. In advance of staging, Maureen provided us with a helpful list of "Things to Do" for us to take care of before staging day. These improvements enhanced the look of our home substantially, both inside and out. While other local stagers proposed removing and replacing much of our furniture and putting it in storage, Maureen's approach was to use the furnishings we owned, rearranging them and adding accessories from her inventory to present our home in an appealing manner. This worked well and was very cost effective. Our house was given a substantial makeover and looked terrific. When it went on the market, we received numerous compliments from Realtors and their clients about how good it looked. Most important, in less than a week we accepted an offer. Maureen's home staging work played an important part in our success.
The house looks beautiful, thank you!! You did a wonderful job!
Thanks Maureen! Two weeks on the market, four showings, and an offer accepted. Your home staging was wonderful!
Maureen at Room Solutions Staging provided a Verbal Consult prior to listing our home; we walked through each room and made placement changes, removed extra furniture and wow, what a difference! Her focus on making the home look warm and inviting provided buyers a chance to focus on our home's craftsmanship and not our stuff. All the rooms look spacious, inviting, and light-filled and it sold in 13 days! Maureen was quick to respond to all my emails and questions. We will use Maureen again to help us get settled into our new home! My advice: don't list your Portland-area home without calling Maureen at Room Solutions Staging first!

Brian & Jennifer Johnson

,
When Evy first walked into the house I heard "WOW…WOW…I want to live here!!" She REALLY likes the staging, and so do I, it is outstanding!
Wow! Is this the same place?!! You did a wonderful job Maureen. We all agree that the staging played a big part in the quick sale! Thank you.
I cannot begin to thank you enough for the wonderful job you have done staging our house … we received a full price offer in only two weeks.
Thank you Maureen for your insight and impeccable good taste … Our home looks so warm and beautiful, even the photographer commented on it! We love the look and feel of our "new" home!
Maureen was very professional at all times. She went to view the home within a day of my call and got back to me with the estimate and contract paperwork immediately. I needed to have the home staged ASAP and Maureen fit me in her schedule within a week. The home was beautifully staged with furnishings that enhanced the rooms. I especially appreciated her taking photos of the staging and sending them to me right away to use in my marketing of the home. Within a month of the home being staged, we had a sale; both we and our Realtor are certain the staging really helped sell this house! All the furnishings were installed and removed without damage to the floors or walls. I am very pleased with Room Solutions Staging and will definitely use them again.
I would never have thought to (stage) things this way. I'm just blown away by it. Thanks for trying to juggle your schedule around for me … I am continually impressed with your level of service.
Your staging had a big impact on the sale of our home. I'll certainly recommend that others use your home staging services as well.
I think very highly of Maureen: she's professional, generous, and easy to work with. She goes over and beyond, meeting you at sources (of which she has many, sharing her designers discount with you) and helping you get an overview of what you are trying to do. We were very pleased with her involvement and found her very easy and pleasant to deal with.
The house looks fantastic. Besides being beautiful and functional, it is easy to maintain, even with two dogs! The Open House received lots of positive feedback.
We have started painting some of the rooms, and everything looks great!!! Have had many compliments so far from family and friends … thanks again for the great advice.
Thank you for using so many natural elements in your staging of this LEED Platinum home.
We are really impressed – after 8 months on the market as a vacant property, we had a sale just 4 weeks after you staged our home. Thank you so much!
The house had a full price offer in just five days. In this market, it was the best outcome I could have hoped for. Again, many thanks to you and your team.
We hired Maureen at Room Solutions Staging to stage our home when we were having some trouble selling it. She did an AMAZING job and we subsequently sold our home within weeks. We were very impressed with her professionalism and eye/talent for making a room look it's best. We almost wanted to stay in our old house! Just recently we hired her to help us with decorating our new home. We made a Verbal Consult appointment for her to walk through and give suggestions as well as help us move furniture as needed. We had a room that was a challenge as far as placement of furniture; Maureen listened to our problem and reviewed what we wanted and how we used our room. She came up with a great solution that works beautifully. We were very pleased with the new arrangement. She also gave feedback as far as art selection and placement. In addition, we hired Maureen to shop with us for a couple of hours to help select new furniture for our home. She was a great help!
Maureen is awesome! Since I was using my own furniture, she recommended removing and moving some pieces and adding some inexpensive decor pieces. It looked great! She definitely knows what she is doing and puts you at ease the moment you meet her. All this for a very reasonable fee -- a great investment. I'll most certainly recommend her to my friends and family and would definitely use Maureen in the future for interior decorating ideas too.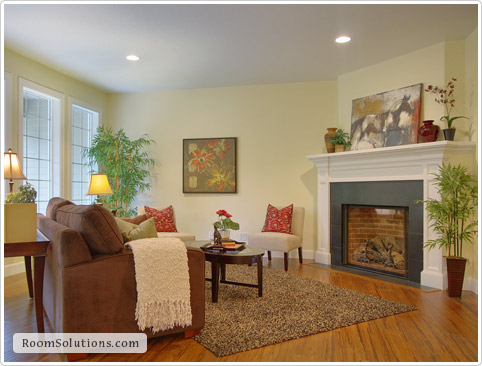 Thanks Maureen, great job with the Staging -- definitely a big factor in selling. Will call you for staging the next one.
Before selling our Portland home we interviewed several home staging companies to help prepare it for the photos and showings. We were living in it during the showings, so making sure the space was "livable" for us was of major importance. We chose Room Solutions Staging because Maureen was very professional, personal, and thorough. It was a very pleasant meeting and the quoted price was competitive. Maureen staged the house and I came home to a wonderful surprise! While we walked through the house, she gave some very effective advice about how to prepare for each showing and tips to help make showings easier while living there. The company who moved in the furniture was very professional (on-time, pleasant, careful) and respectful of our home. Although she used much of our own furniture, Maureen provided some selected pieces that would best showcase the space. Where her talent was demonstrated was in the detail and accent pieces, plants, art and décor items she provided. Maureen drew together the spaces extremely well, allowing for an easy "flow" throughout the house. Every single realtor who showed the house noted how their clients loved the pieces we had and how the house looked very inviting. We heard "the house shows extremely well" after nearly every showing! We are extremely happy with our experience and will recommend Room Solutions to anyone who has a need for home staging or decorating advice. In fact, we already have!
I would hire Maureen in a heartbeat to stage my home. She is the go-to person for high end home staging. Her name is at the top of the list when I talk about the importance of home staging with clients.
Thanks! We got over asking price with two offers, and a huge turnout of people for the open house. I think the staging and photos really made the difference.
We attribute our quick sale of our home to the staging; kudos to you for helping us get the house ready. It really came together nicely, especially the living room.
We use Room Solutions Staging to stage our remodeled homes because of their great service, expertise and their incredible results. Prospective buyers, their agents, and everyone else raves about their designs. We sell our homes quickly, thanks in large part to Room Solutions Staging.
Thank you for helping us with the staging and presentation of our home. The suggested change in exterior house color was well worth your visit. We appreciate your explanation as to why the first impression of the home would benefit from choosing a new color. Your suggestions saved us time and provided us with new ideas and input into minor improvements we could make (new throw pillows, rugs, plants etc.). Since we have an eclectic assortment of furniture, I was most pleased that you could work with what we already had, therefore avoiding unnecessary expenditures. We have no hesitation in referring your services -- you certainly exceeded our expectations!
I hired Room Solutions Staging and sold my high-end house in just 8 days. I am convinced that this amazing design service was a key part of a winning marketing formula!
Thanks for all your great staging! It really made the house show at it's best. We'll contact you for future staging and I'll also tell my friends to hire you if they need staging.
We had TWO solid offers - for well over asking price, both within 24 hours of hitting the market! We LOVE the staging you did in our home! We believe it's (by far) the best investment we've made in getting that home ready to go on the market. Your creativity definitely emphasizes the positive aspects of the home. I'm so happy we found you!
Thanks, Maureen, for all your expert home staging advice and creative design. It really made all the difference in being able to sell my parents' home so quickly!
All I can say is wow. The place looks very, very nice. Your choice of colors works very well. Rich, yet cute and homey; spacious and fun. Thank you for your eye to detail.
Maureen was a godsend. During our initial conversation, Maureen took the time to listen and assess our situation from my many thoughts and words. We knew we needed help to make our home more sellable. But not until Maureen's first visit with us, did we realize how much. Maureen composed a list (25+ items of suggestions, details and well- thought out plans), worked with me through resources, pictures and e-mails to convey her ideas. Maureen's vision and inspiration changed our home into a delight to the eye, and a place where others could see it as "their" home. Thank you Maureen!
Thank you Maureen for the beautiful work you've done making our home as appealing as possible. You've been wonderful, and so easy to work with!
Thank you so much, Maureen. You did such a wonderful job and it was well worth the cost to be able to show these apartments. It's a tough market right now, and I'm so pleased with the way you staged them. Many people, including our Regional Director, commented on how nice they looked.
We hired Maureen to stage our home for sale. She gave lots of specific input about what we could do to have the house looking fresh and suggested specific paint colors. The setup went like clockwork. She took photos, and her photos are so gorgeous. I didn't even recognize the place as our house! A buyer made an offer on the 3rd day it was on the market. We were so pleased with what she did for our house that we hired her to give us decorating advice in our new home. For a reasonable fee Maureen came for 2 hours, offering suggestions about placement, art, and other decorative items. She was personable, thoughtful, and we have already taken many of her suggestions. All during the process, Maureen was exceedingly professional and supportive. I cannot praise her enough -- she went above and beyond the call of duty to help us out. And all this is in addition to the fact that she is an amazing stager whose advice and staging I am positive helped sell our house in 3 days. Use her! You won't regret it.
In a slower market where properties like mine have an average selling time of 3 months, after staging my home sold in only 14 days. Your staging really made the difference here!
Wow!!! My goodness, Maureen, I have looked and looked at what you have done, what a transformation. Thanks for the beautiful staging arrangement of our wonderful home.
We are so glad we found Maureen Bray and Room Solutions Staging! We listed our house Nov. 15, 2011 and had lots of lookers but no offers. Maureen staged our home on Feb. 23rd and we accepted a full price offer three days later. Three days! We can't rave enough about her work. She was professional, punctual, knowledgeable about the local market, and very willing to work with us to develop a staging concept that both met our budget requirements and made our house look drop-dead fabulous. She also provided great photos, useful advice and tips to get our home looking its best.
I just wanted to thank you and congratulate you on your staging of the Camellia house. You did a superb job! The house looks fantastic! I only wish you could help me with my California house.
Thank you for all your help, Maureen. We could not have gotten here without your help and advice. The paint colors on the walls, especially the LR/DR and hallway, are magnificent. Thanks, again.
Be sure to call Maureen before listing your house. We had a vacant house on the market since May, but four months later we hired Room Solutions to stage the house. Maureen gave us many tips that we followed (like new light fixtures and so on). After the house was staged, it took only a few weeks to get a full price offer; the house was transformed!
Thank you so very much for the beautiful staging of my condo. It had warmth, livability, humor, and just the right touch of elegance. I don't think the property would have sold so quickly without it!
I must say we have been looking at homes since the spring of this year and you are the most professional designer that we have come across. The home is beautifully done and you have exquisite taste.
Maureen staged a home I was selling using her furniture for the living room, dining, kitchen and master bedroom. She was supportive in my desire to use some of my own things, and she had good suggestions on what to use and how. She was able to do the staging on rather short notice and my home sold quickly -- in less than a week and for over the asking price.
Thanks much on your staging - the home's presentation really got a great response. We had a lot of compliments and multiple offers. I passed your information on to our realtor, as he too liked the outcome.
The expense of staging certainly paid off. Having the home staged made people more able to imagine themselves living there -- it sold in just a few days, after being on the market vacant for many months.
Maureen made the staging and showing of our home effortless in one of the worst markets in recent history. Her recommendations for updating our home allowed us to make improvements where it did the most good. If not for Maureen, we would have spent a lot more money on unnecessary renovations that wouldn't have helped the sale of our home. With savvy upgrades and Maureen's beautiful home staging, we had potential buyers coming to the house every week. It's no accident our home sold this year (2011) when other homes in our area aren't moving at all. We can thank Maureen and Room Solutions Staging for that.
Our home looks stunning. Thank you for all of your contributions; this has been a great experience for us! I recommend this process for anyone who wants to simplify their environment - selling their home or not.
We're very happy that we sold our house! As you know, your staging resulted in 2 offers the first week on the market! Thanks again for working us into your schedule. We will definitely refer you to anyone looking to sell their house!
We contacted Maureen based on a recommendation -- boy were we glad we did! She gave us sound advice that "showed the space" in our home's interior. Maureen was also very professional in telling us that our main exterior paint color was not mainstream and a different color would likely attract more interest. Not only was she right, she helped select a main color that would compliment the existing trim and shake colors, saving us hundreds of dollars. Her home staging advice and service was a big part of why our home sold in 45 days, even in the Winter months and during a tough time in the Portland real estate market.
I had an excellent experience with Room Solutions Staging. I would highly recommend their services if you are looking for a fresh, new perspective on a home you are decorating, remodeling or updating. Maureen gave me many extra ideas and suggestions.
I want to thank you for staging my home; I know your talent helped to sell it. I am grateful to Deborah Jackson for recommending you; she was right when she told me that using your services would help my home to sell. I will recommend you to my friends.
We chose to stage our home in hopes that it would sell quickly because with two small children it is very difficult to keep the house looking presentable at all times. We chose with Maureen Bray from Room Solutions Staging. I thought our house looked pretty good beforehand, but after following all of Maureen's suggestions our house looked absolutely stunning! We had an offer 5 days after we put it on the market! When we sell again we'll be sure to come back to Room Solutions for Maureen's expert advice.
Thank you for staging my home – it looked so beautiful. It certainly takes a unique set of eyes to stage a home to sell it. With today's market being so competitive I don't think my home would have sold so quickly without your staging help.
You are a very talented home stager. The change was dramatic and the appeal of the house was enhanced much more than I expected. We appreciate your tasteful and expert choices. I know it will help the sale of the home. Thanks again!
Maureen came to my home to help with furniture arranging and staging (ReStyling). She had great ideas; rearranging & changing just a few things made a tremendous difference. Maureen has a great eye and was wonderful to work with. Things look so much better now; I'd highly recommend Room Solutions to anyone who is looking to freshen up their decor or staging a home for sale.
Thanks again for your beautiful home staging work. As it turns out the very first people that walked into our house and made an offer are the ones who are buying the house … largely attributable to your staging assistance!
Just putting in my 2 cents worth, I want to thank you for the lovely staging and all of your advice. By the time we were through, the house looked great. For me, it was money well spent and I will recommend you to others!
Maureen provided a list of suggested cosmetic improvements for the house which were relatively quick, easy, and inexpensive. After we completed those improvements (which made a huge difference on their own) she came back and did the staging. I was amazed at how transformed it was! This house looked drab before and had been an abused rental, so we were all very sick of dealing with it. My 7-year-old stepson would complain non-stop every time we had to go over there. As soon as he saw it staged he said, "I don't want to leave" and "I think we should just move in here." What a change! A friend who'd said that she didn't think staging would make much difference in getting the house sold saw the amazing photos (which Maureen provided as part of her home staging service) and said "That CAN'T be the same house! It's as good as sold!" Another family member who'd helped get the place fixed up said after seeing the photos, "Wow! Is that really the same house!?" So it's unanimous! The house looks better than any of us ever could have imagined. And it's not just that the stuff in it is nice. She really brought out the best in the house. I had no idea it could look so great!
I wanted to tell you how much we appreciated you, your work, your warmth, and your ideas. We would not have even come close to your talents in staging. It was a great experience, and we both thank you very much.
We wanted to let you know how much we enjoyed working with you on the staging of our house. You did an awesome job and we got a lot of really positive comments on the staging . I wish I had even a little of your talent!
You and your amazing team did it again! My client's condo sat vacant on the market for 15 months. Each month there was cash out for the mortgage, HOA dues, taxes, utilities & insurance. Then you staged it and we had a sale in less than a month. Your "MAGIC" worked – my clients and I feel you were instrumental in this sale and we thank you very much!
Maureen was absolutely fabulous. She gave me so many ideas and was incredibly positive as my 1970's house gets a new face. She is an incredible resource, and she was very willing to work around my schedule. I highly, highly recommend her. She deserves an 'A+' rating.
You did an amazing job. The spaces flow brilliantly and your arrangements of color, contrast, and objects work in unison to amplify the finest qualities of the house. Your home staging work is pure artistry, and my money was very well spent. We received an offer in just 3 days!
You helped me re-design our new home with existing furniture from our previous home - excellent, very professional and easy to work with. You could see & arrange things that I could never have come up with myself. You used the time wisely and I highly recommend you as a very talented and skilled decorator and home stager.
Maureen was so helpful, professional, and courteous. She not only provided terrific color recommendations and "uplift" ideas for our home along with her full-service staging solutions, but she also came back to tweak things when we requested. We had two full-price offers within hours and I am 100% positive that it was largely due to her gorgeous staging. Everyone who saw our house complimented the staging, prospective buyers and agents alike. Thank you Maureen!
Our house is three stories and the Room Solutions crew staged every room, in some cases quite dramatically. Maureen was so helpful and responsive and was able to ensure a great experience. I walked into my house after their work and was blown away. They made the house more open and appealing.
Thank you again for all your help - because of your advice and guidance, we attracted the perfect buyer who immediately fell in love with the condo! We got a full price offer too! If we can ever be a reference for future clients, please don't hesitate to ask - we're huge fans!
You quickly assessed what my home needed and brought in tasteful accessories as well as rearranged my own items. The furnishings and colors you used were very inviting – and my home is sold! You and your staging crew were professional and efficient throughout the process.
I tried to sell my home unsuccessfully for 6 months before using home staging with Maureen Bray at Room Solutions Staging. The result speaks for itself -- I had an offer less than 1 week after staging. Not only did Maureen provide the staging, but she also advised me on many details which I had not considered. I believe her advice, her photos for the MLS, and her staging made all the difference in enabling this home sale. Through her staging Maureen provides the vision most of us lack in imagining how we would make a home look warm, cozy and functional. She is straightforward, professional and punctual. I highly recommend her services.